More Information About Machine Mart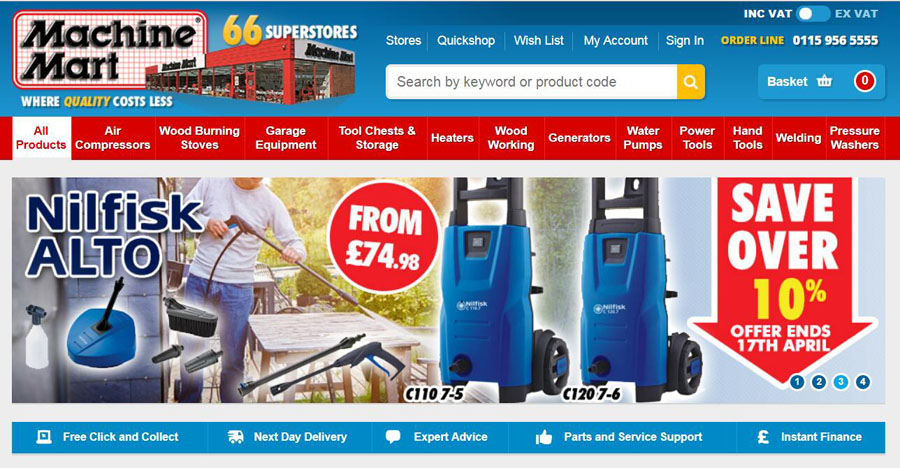 Machine Mart--Your Trusted Partner On All Tools & Equipment
If you like to fix things around the home and you need to find the right tools for the job, or if you're looking to equip your space with the right tools and equipment, then consider Machine Mart as your one stop shop.
When buying tools and equipment, you need to find a reliable specialist who will help you find the right tools for the right job at an affordable price. Machine Mart are experts in all things tools and equipment. They are constantly updating their range of products to provide you with a wide variety that gives you value for your money. More importantly, when you go shopping at Machine Mart, you'll be attended to by a team of friendly and knowledgeable staff who will help you pick the right tools and equipment to meet your needs.
Today, Machine Mart has over 64 superstores across Britain all of which have a devoted mail order division and a 24hour website that will allow you to purchase quality items at competitive cost.
Machine Mart discount codes & special offers
There are many Machine Mart Voucher codes available for you from Hidiscountcodes.com:
Free Click and Collect
Standard Delivery With A Minimum Charge Of £4.99 Inc VAT
Nilfisk Pressure - save over 10%
Join Machine Mart email club & win £500 to spend on clarke products
£12 off Clarke FP6B Heavy Duty Fruit Press
You can now take advantage of the save big offer at Machine Mart and make the Einhell GC-MT 3060 LD 4HP Petrol Tiller only £346.80 inclusive of VAT, Finance available From £14.73 per month. If you are looking for cabinets, The Draper FSC1 Flammables storage cabinet is now going for a discounted price of £35 exclusive of VAT. Take advantage of the free click and collect deal from Hidiscountcodes.com and just click on the "Get Deal" button to enjoy this offer.
There are such exciting offers and promotions on selected items at Machine Mart. All you have to do is grab the Machine Mart Voucher codes and Machine Mart promo codes.
Start shopping already! And get your Machine Mart vouchers online today!