More Information About Thomas Cook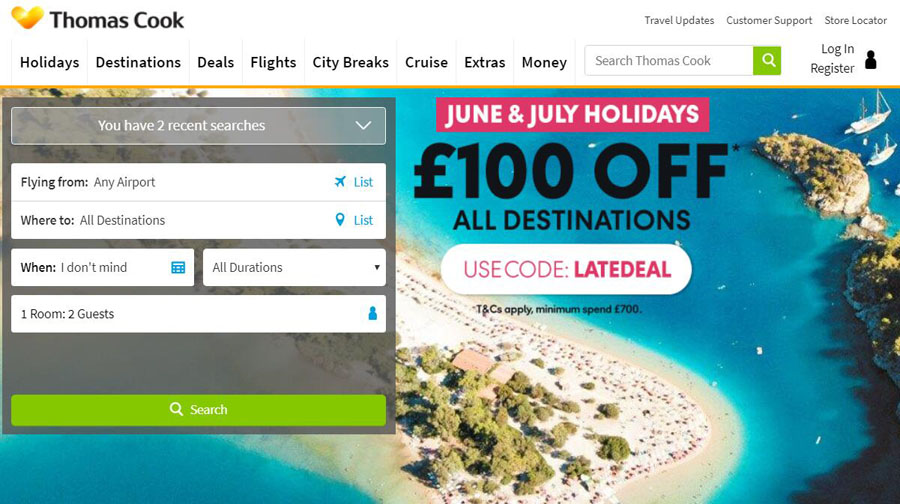 Save Money With Thomas Cook
Thomas Cook is one of the world's best known holiday planning and booking company. From flights and accommodation to cruises, car hire, and insurance, they provide a wide range of travel services to suit everyone needs and different kind of budgets.
It is famous for its exceptional satisfying customer relationship and travel services. It has won various awards at the National Tourism Award events and many other awards throughout the globe. It could achieve all this by its aim to serve the exceptionally well tours and travels service to its customers at the reasonable and best possible price.
With special offers for many destinations across the globe, whether you're thinking of planning a trip anywhere, they aim to bring you the biggest savings available. From short cities tours to beautiful beach side escapes, with a discount, you could make a booking at the most affordable price and package. If you're planning a holiday, you won't have to spend all of your savings on travel by using a Thomas cook discount code or discount. Active Thomas cook promo codes and discount codes are available at Hidiscountcodes.com and you can avail them at right now.
Some Example Thomas Cook Vouchers & Deals:
£50 Off £800, £100 off £1500+, £250 off £4000+ Code: BOOKIT
£100 off Turkey Summer 2018 holidays Code: TURKEY
£100 Off £700+ on All Destinations Code:LATEDEAL
Winter 2018/19 Now on Sale: save £50 when you pay by Direct Debit Code: EARLY
£150 off £1500+ Long Haul Summer 2018 holidays Code:LONGHAUL
Kids go from £1